The England Handball Final 4 is coming to a close, concluding what's been a thrilling Premier League season.
In both the Men's and Women's leagues, the final games will take place this weekend, when we'll learn who will take home the coveted trophies.
No matter what happens, it's sure to be a thrilling weekend of handball, which will be streamed live across England Handball's social channels.
In the Men's, Olympia and NEM Hawks are joint top, with six points and two wins each. This weekend, they will face off for the title. In third and fourth place, tied on two points each, are West London Eagles and Nottingham.
In the Women's, it's Olympia who lead the way with two wins from two, and six points. West London Eagles and NEM Hawks both have four points each, with Loughborough fourth on two points.
For clubs right across the England Handball pyramid, youth development is crucial, – and there's some amazing work being done by the clubs facing off in the Final 4.
Here, ahead of the third and final round of this year's tournament, we round up the great work each of these teams are doing to make sure the future of the sport is in good hands.
Loughborough
Loughborough University have gone from strength to strength over the years first entering the u19 competition with their new development players and freshers at the university. They have competed strongly in both the men's and women's games with both teams reaching the BUCS finals. In the u19 competition Loughborough have made the finals again in the women's side of the game and look to defend their title once more.
Loughborough have worked hard to build the development side of the game getting more freshers and new payers into the sport, bolstered by the Elite Player Academy residing at Loughborough College. Loughborough sporting credentials speak highly with multiple youth coaches now representing both England and Great Britain on the performance pathway such as Alexander Themis, Oli Sutcliffe and Luke Jennings now working with performance teams.
NEM Hawks
NEM Hawks, the double championships conquering both the men's and women's leagues last year, have seen an abundance of their youth successfully go through the club now competing at senior level. In 2010 through to 2015, the side were dominant amongst the youth categories claiming multiple titles in both the girls and boys u18 competition, with another final for the boys in 2018 taking the silver medal in the then-changed u19 format.
With a number of the squad now competing at senior level and with notable GB representation across youth and senior levels across both Men's and Women's, it is not surprising they are gunning to defend their title.

They have begun this development journey again starting at u14 level, hosting a number of local tournaments as well as supporting teams in the u13 county competition. Led by Sue Whitehead and Donna Hankinson, the club has begun to reinvigorate its youth ranks and now runs regular sessions for new junior players.
Nottingham
Nottingham's Men's side are in this year's Final 4 after finishing second in the North league.
According to the club, junior development has "always been a priority", demonstrated by their commitment that their U19 boys' section has continuously been in action since 2015.
A spokesman for the club said: "Nothing really compares to the pride we feel as club when players that have been through our junior section move on to join the ranks of the GB teams, go play in Europe or are called up to our men's first team."
He said their U19s objective is to qualify once again for the national final after last season's "heart-breaking" loss.
He added: "Nottingham is mostly composed of last season's U16s with the tremendous additions from other clubs' players that have joined the EPA.
"They are an integral part of the club providing volunteering help at game and events, playing competitively at U19 and senior level as well as pursuing any opportunities available to them through the performance pathway.
"They are quite literally the future of our club and the future of handball in England in general, and their development is worth the countless hours our club's members volunteer towards it."
Olympia
Olympia have both their Men's and Women's sides competing in this year's Final 4.
Through volunteers, coaches, players, supporters and sponsors, Olympia say they have always "strived to build something more than just a handball club". Olympia describe themselves as "already a community, a family with both juniors and adult members".
For the past few years, the team have worked hard to create a sustainable programme within the club. From mini handball to juniors, they look to provide a platform for young ones to have fun, fall in love with handball, develop skills and create friendships.
Their coach Alex said: "The beginning of any project is always the hardest. Finding juniors who could be interested in handball, managing to convince them to come to the training and give it a go, is not an easy job. However, we have a very good relationship with a few schools, in particular with Chadwell Heath Academy.
"With the help of the PE department there, we have aligned in delivering handball not just as part of the club, but also as part of the school curriculum. The focus is different at each session, but the goal for the both of us is to have as many juniors as possible active and engaged in handball. I believe we have achieved that.
"It is challenging though to keep kids motivated and to manage everyone's expectations. However, I believe our coaches have done a great job! We currently have juniors in Regional and National Academy, and some of our u19s already play in the Premier League.
"Nothing would have been possible without their commitment, hard work and without them giving up their personal time. So, we want to thank each and every one of them! Our community is everything for our club, and I am proud to say that overall, Olympia proved many times we are an all-rounded family who is always there to support and can achieve anything it sets its mind to!
"We will continue our current work and hope each season we will have more juniors playing this amazing sport!"
West London Eagles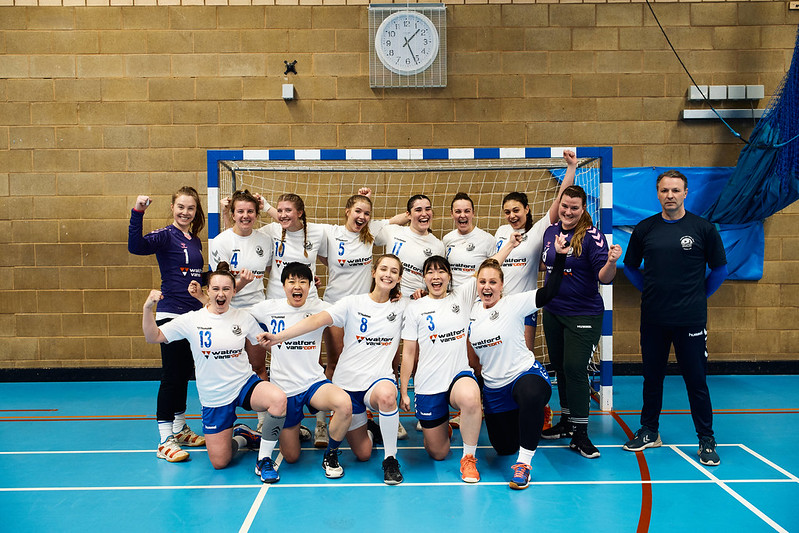 West London Eagles are another club to have both their Men's and Women's sides competing in this year's Final 4.
They say it has always been their philosophy to support the growth and development of handball in England.
They have had an active junior section since 2011, when Ealing Junior HC was established, and eventually merged with Ruislip Eagles to form West London Eagles. This year, the club has delivered handball outreach sessions to over 250 primary school children across the Borough, and as far away as Egham, Marlow & Ilford.
They have also delivered over 100 hours of handball sessions in secondary schools, both in and out of West London. That's as well as committing to supporting more events far and wide, and continuing to develop links and relationships with local primary and secondary schools.
West London Eagles say they have taken inspiration and support from their partner club, Vidar Ulkebøl, based in Denmark, who have their own youth structures. The Eagles have now established the possibility for some of their younger players to travel and attend training camps in Denmark every year.
Closer to home, the club runs more junior sessions than senior sessions on a weekly basis. That includes recently establishing a relationship with Brentford FC Community Sport Trust, and the club is actively supporting them in the delivery of weekly handball training sessions for school years three to six.
West London Eagles currently play in the U16 and U19 EHA boys and girls leagues and U14 development weekends, and have entered teams into the U14 Open to be held at the end of April.
Peter Gannon who is the Juniors Director at West London Eagles, said: "Handball is a great sport. I never played but became aware of the sport through my son. I was amazed by the sport as it was fast paced, physical and inclusive.
"Team sports such as handball help kids to build lifelong skills and discipline. Every player can get to touch the ball and play an active part in training as well as in matches and handball is perhaps unique in this area.
"The handball community is small but the passion for the sport is very evident. I hope we can harness this passion into developing and growing the sport.
"I am really looking forward to EHA Final 4 and I do look to the day when there are over 100 junior clubs in England!"